GOODWILL brings "BEAUTY" to La Sierra High
La Sierra High Boosters & Sara Hughes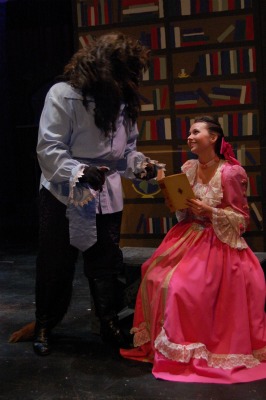 "Once upon a time" the La Sierra High's Drama Booster parents wanted to help their students produce a memorable musical. Musicals are expensive, costing thousands of dollars more than a regular theatrical production, but the school, students and parents were determined to find the added funds needed to produce something amazing the economic difficulties. So they worked with local GOODWILL Industries and held two huge collection drives, raising approximately $7000.00 which funded over half the cost of the production. Ninety-five jubilant La Sierra High cast & crew members will be presenting that show, "Disney's BEAUTY & the BEAST" beginning next week. "It was simply amazing! Everyone worked to help us earn the money. We really didn't know if we could do it…but the community came together…and here we are! I can't believe it!" said senior Robin Fales, who is the student director (and also a valedictorian candidate).
The professionally created enchanted costumes were rented for this amazing recreation of this legendary love story. All the musical excitement, humor and magic are combined with amazing costumes and scenery to bring the full Broadway show to audiences of all ages. The performers represent a diverse cross-section of the student body with interests including baseball, singing water polo, dance, tennis, student government, academics, basketball, medicine, music, cheerleading, theatre, track, football and more…but they all agree that they love this play. They began rehearsals with a read-through before the Holiday Break…and have been rehearsing ever since. Sometimes they run from classes to sports to rehearsal, studying backstage between scenes, but it has all been worth it, according to Robin. "Everyone is working so hard and we all get along so well. There are about 90 of us, but it is like a big family. They even gave up two full weeks of vacation!"
After weeks of rehearsal, the production is ready. Belle sings her way through the famous tale…avoiding Gaston, enchanted by Cogsworth, Lumiere, Mrs. Potts & the other magical characters in the hidden castle, fighting the mob with her father, learning that it is possible to "love a Beast"…and living happily ever after, of course.
"Disney's BEAUTY & the BEAST" will be performed at the La Sierra High School Performing Arts Center beginning Friday March 9th with additional performances March 10th, 14th, 15th, 16th & 17th at 7:30pm.

There will be an additional "Children's Matinee" on Sat March 17th at 1pm, where the costumed cast will sign autographs afterwards for the children.

Doors open 30 minutes before curtain.

Reserved seats are $8 and General seating is $6.

Tickets are available weekdays in the school Activities Office

or at 6pm on Performance nights at the Box Office.

Please call (951) 351-9398 for more information.