J*COMPANY TAKES ON BULLYING WITH
13 – A New Rock Musical About the One Thing We Never Stop Doing –
Growing Up!
Green Day meets youth theatre -- with a live rock band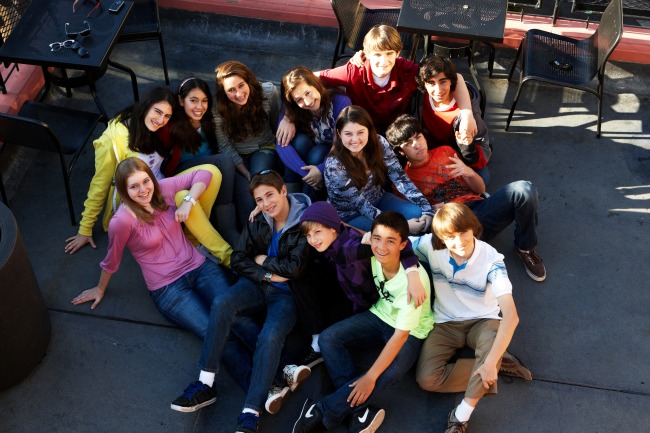 LA JOLLA, CA – The award-winning J*Company Youth Theatre, a program of the San Diego Center for Jewish Culture at the Lawrence Family Jewish Community Center, JACOBS FAMILY CAMPUS, is pleased to announce its production of the hilarious high-energy musical 13 with music and lyrics by Tony Award-winning composer Jason Robert Brown and book by Dan English and Robert Horn. The production will run December 3-12, 2010, at the David & Dorothea Garfield Theatre.
12 year old Evan Goldman lives in the greatest city in the world, New York . He is popular and cool and getting ready for the biggest day of his life, but when his parents get divorced his world turns upside down and he's forced to have his Bar Mitzvah in "the lamest place in the world," a small town in Indiana. All Evan wants is to make friends and survive the school year; easier said than done! The star quarterback is threatening to ruin his life; his only friend, Patrice, won't talk to him; plus quite possibly the least popular kid in school sees an opportunity for blackmail – what else could go wrong?
"Get ready to rock!" said Joey Landwehr, J* Company's Artistic Director. "We are presenting 13 – A New Musical, 'The way it was meant to be… at the JCC.' This is going to be an all-dancing, all-singing, full-out ROCK CONCERT! Think Green Day meets youth theatre; with a live rock band and some of the best dancing La Jolla has ever seen."
"And 13 has a beautiful plot about the trials and tribulations of growing up," said Landwehr. "It's filled with beautiful ballads and heart-touching lyrics. This is definitely a show for anyone ages 9 – 99. I hope everyone will come to see this show, destined to be a new classic!"
Landwehr is directing 13. Landwehr has worked extensively as an actor and director in New York City , both on and off Broadway, as well as in national tours and regional theatre. He has studied under such instructors as Betty Buckley, Patti LuPone, Marcel Marceau, Francis Sternhagen, F. Murray Abraham, Twyla Tharpe, and has had the privilege of working with great performers such as Phyllis Diller, Sam Harris, Joel Grey, Kaye Ballard, Michael Feinstein, Kristen Chenowith, and Howard Keel. Landwehr is a member of the Screen Actors Guild (SAG), the American Federation of Television and Radio Artists (AFTRA) and Actors' Equity Association (AEA). He was honored in 2006 by San Diego Metropolitan Magazine as one of the 40 San Diego residents under the age of 40 who are making significant contributions to the community. Landwehr most recently directed Fireflies, South Pacific, The King and I, The Sound of Music, Cinderella and Fiddler on the Roof for J*Company.
For our educational component the cast (and audiences) of 13 – A New Musical will be learning about the current hot-topic of bullying. 13 is the first musical to deal with the problem of bullying head-on and without reservation, teaching young people the importance of compassion and acceptance. The school audiences and the cast will be visited by a professional child educator and psychiatrist to speak about all aspects of bullying and the long lasting effects it has on all people but especially young kids during the middle and high school years.
Heading the cast of 13 are:
Name Role Age School
Celia Tedde Patrice 13 San Diego Cooperative Charter School
Ethan Rappaport Evan 13 R. Roger Rowe Rancho Santa Fe School
Michelle Guefen Kendra 15 San Diego Jewish Academy
Scott Peterson Brett 15 San Diego High - School of the Arts
Marissa Wolfsheimer Cassie 12 Francis Parker Middle School
Talia Israel Charlotte 11 La Costa Heights
Emily Hoolilan Lucy 15 San Marcos High School
Joshua Shtein Malcolm 14 High Tech High International
Mara Jacobs Molly 15 High Tech High International
Julian Coker Archie 13 Carmel Valley Middle School
Cameron Chang Simon 12 Earl Warren Middle School
David Ahmadian Eddie 13 Carmel Valley Middle School
Jonas McMullen Richie 10 Skyline Global Ed
Show Dates and Times:
Friday, December 3, 10:00 a.m. (School Show)
Saturday, December 4, 8:00 p.m.
Sunday, December 5, 1:00 & 4:30 p.m.
Thursday, December 9, 7:00 p.m.
Friday, December 10, 10:00 a.m. (School Show)
Saturday, December 11, 8:00 p.m.
Sunday, December 12, 1:00 & 4:30 p.m.
General Information
Tickets for 13 are $14.00 for children and $16.00 for adults and are available online at www.sdcjc.org/jcompany or by calling the JCC Box Office at 858-362-1348. The David & Dorothea Garfield Theatre is located at the Lawrence Family Jewish Community Center, JACOBS FAMILY CAMPUS at 4126 Executive Drive , La Jolla .