J*COMPANY OPENS SEASON OF RODGERS & HAMMERSTEIN MUSICALS WITH BELOVED SOUTH PACIFIC
60th Anniversary Production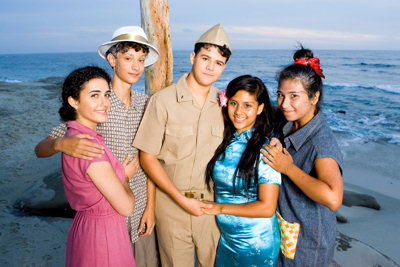 LA JOLLA, CA – The award-winning J*Company Youth Theatre, a program of the San Diego Center for Jewish Culture at the Lawrence Family Jewish Community Center, JACOBS FAMILY CAMPUS, is pleased to announce its production of Rodgers and Hammerstein's immortal favorite, SOUTH PACIFIC, which premiered on Broadway 60 years ago. The production will run October 15-25, 2009, at the David & Dorothea Garfield Theatre.
It all starts "Some Enchanted Evening" on an island paradise during World War II, where two parallel love stories are threatened by the dangers of prejudice and war. The natural beauty of the islands, the hijinks of the sailors, the danger of war, and the strength of true love are joined by a sensational Rodgers and Hammerstein score featuring such hits as "Bali Ha'i," "Younger Than Springtime," and "I'm Gonna Wash That Man Right Outta My Hair." Based on James Michener's Pulitzer Prize-winning Tales of the South Pacific, the musical was nominated for ten Tony Awards and won all of them, including Best Musical, Best Score, Best Libretto and all four awards for acting. J*Company will produce a gorgeous 60th Anniversary production for the entire family.
"This is the first of our year-long tribute to the brilliance of Rodgers and Hammerstein and the Golden Age of American Musical Theatre," said J*Company Artistic Director Joey Landwehr. "SOUTH PACIFIC holds a very special place in my heart as my very first union production at the age of 19. It starred Victoria Mallory and the late, great Howard Keel. I remember loving the music and performing for 15,000 people every night."
"The greatest impression was made on me, however, by the important story SOUTH PACIFIC told about tolerance and acceptance," said Landwehr. "In this time when the subject of love and marriage is at the forefront of political debate perhaps it is important to look back at the problems of the past to understand our present and, more importantly, our future."
Landwehr is directing SOUTH PACIFIC. He has worked extensively as an actor and director in New York City, both on and off Broadway, as well as in national tours and regional theatre. He has studied under such instructors as Betty Buckley, Marcel Marceau, Francis Sternhagen, F. Murray Abraham, Twyla Tharpe, and has had the privilege of working with great performers such as Phyllis Diller, Sam Harris, Joel Grey, Kaye Ballard, Michael Feinstein and Howard Keel. Landwehr is a member of the Screen Actors Guild (SAG), the American Federation of Television and Radio Artists (AFTRA) and Actors' Equity Association (AEA). Landwehr was honored in 2006 by San Diego Metropolitan Magazine as one of the 40 San Diego residents under the age of 40 who are making significant contributions to the community. Landwehr most recently directed Pocahontas, Into the Woods, and Fireflies for J*Company.
Heading the cast of SOUTH PACIFIC are:
Ensign Nellie Forbush Danielle Smotrich 17 High Tech High International
Emile De Becque Darien Sepulveda 16 High Tech High International
Seabee Luther Billis Robbie Friedman 18 Rancho Penasquitos resident,
high school graduate
Bloody Mary Satya Chavez 16 Academy of our Lady of Peace
Lieutenant Joe Cable Daniel Myers 15 High Tech High International
Liat Danielle Levin 15 San Diego School of Creative & Performing Arts
Production Dates and Times:
Thursday, October 15, 7:00 p.m.
Friday, October 16, 10:00 a.m. (School Show)
Saturday, October 17, 8:00 p.m.
Sunday, October 18, 1:00 & 4:30 p.m.
Friday, October 23, 10:00 a.m. (School Show)
Saturday, October 24, 8:00 p.m.
Sunday, October 25, 1:00 & 4:30 p.m.
SOUTH PACIFIC Movie Musical Sing-A-Long
Join J*Company for a magical movie experience and bring the entire family! Watch SOUTH PACIFIC (the movie) on the big screen at the David & Dorothea Garfield Theatre, as you sing-a-long, clap-a-long and following the bouncing ball to lyrics.
Dress up as your favorite character from SOUTH PACIFIC and sing along with the film. A prize will be awarded for best costume. General admission price is $8/JCC Members and $10/Non-members, with half off for season subscribers. First 50 ticket buyers receive a special goodie bag on that night!
The SOUTH PACIFIC Movie Musical Sing-A-Long will be held on Thursday, October 22nd at 7:00 p.m.
General Information
Tickets for SOUTH PACIFIC are $13 for children and $17 for adults and are available online at www.sdcjc.org/jcompany or by calling the JCC Box Office at 858-362-1348. The David & Dorothea Garfield Theatre is located at the Lawrence Family Jewish Community Center, JACOBS FAMILY CAMPUS at 4126 Executive Drive, La Jolla.