Inland Regional Youth Theatre presents
"Disney's Beauty and the Beast Jr"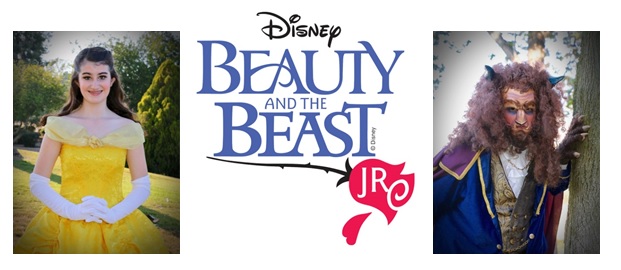 June 17 & 18 @ 7:30pm
June 18 & 19 @ 2:30pm
Levi Theatre Sherman Indian School
9010 Magnolia Ave., Riverside CA
Ticket Prices: $10 Pre-sale
$15 at the Door
Purchase tickets from a cast member or online at www.iryt.org
The Inland Regional Youth Theatre is performing Disney's Beauty and the Beast Jr based on the original Broadway production that ran for over thirteen years and was nominated for nine Tony Awards, and the Academy Award-winning motion picture. Disney's Beauty and the Beast JR. is a fantastic adaptation of the story of transformation and tolerance and features some of the most popular songs ever written by Alan Menken and the late Howard Ashman, along with new songs by Mr. Menken and Tim Rice.
"The Inland Regional Youth Theatre is a youth theatre company with the goal of providing affordable theatre opportunities to the youth of the Inland Empire," says Brian Sharp, President and Producer of Inland Regional Youth Theatre. "Based out of Riverside, the Inland Regional Youth Theatre seeks to offer a variety of opportunities for youth to participate and learn about the performing arts. These learning opportunities range from performing on stage to working behind the scenes. Our mission is to allow any youth who wishes to explore the arts an opportunity to do so. We always have openings and opportunities available."
The classic story tells of Belle, a young woman in a provincial town, and the Beast, who is really a young prince trapped under the spell of an enchantress. If the Beast can learn to love and be loved, the curse will end and he will be transformed to his former self. But time is running out. If the Beast does not learn his lesson soon, he and his household will be doomed for all eternity.
"We are very fortunate that we have gotten to spend three days a week working with such wonderful, fun, unique, hard-working and talented kids as we create the magic to tell the story of Beauty and The Beast," says Directors Radames and Stacey Montes. "This is a story that carries such a strong message that still holds true for our world today, that beauty is found within and to look beyond the surface. The other themes of this show including, learning to love, treating others with kindness and daring to be different, make this a timeless classic that the whole family will enjoy."
Inland Regional Youth Theatre's production of "Disney's Beauty and the Beast Jr" runs June 17th & 18th at 7:30 p.m. and June 18th & 19th at 2:30 p.m. at the Levi Theatre on the Sherman Indian School campus, located at 9010 Magnolia Avenue in Riverside. Presale tickets are $10 and $15 at the door. For more information or to purchase tickets, visit www.iryt.org..