Inland Regional Youth Theatre presents
"Thoroughly Modern Millie"
February 19 & 20 @ 7:30pm
February 20 & 21 @ 2:00pm
Corona H.S. Performing Arts Center
1154 Tenth Street, Corona CA
Ticket Prices: $10 Pre-sale
$15 at the Door
Purchase tickets from a cast member or online at www.iryt.org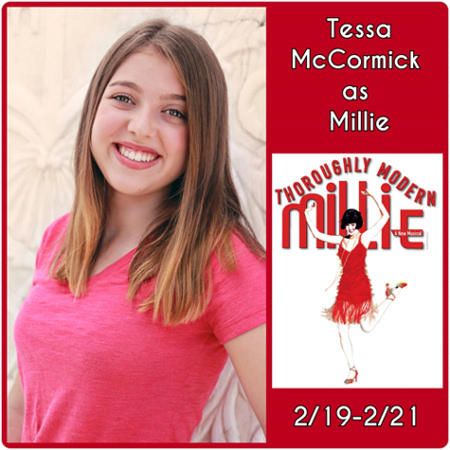 Inland Regional Youth Theatre is performing Thoroughly Modern Millie, the winner of six Tony Awards including Best Musical. Based on the 1967 Academy Award-winning film, Thoroughly Modern Millie takes you back to the height of the Jazz Age in New York City, when "moderns" including a flapper named Millie Dillmount were bobbing their hair, raising their hemlines, entering the workforce, and rewriting the rules of love. This high-spirited musical romp is a delightful valentine to the long-standing spirit of New York City and the people who seek to discover themselves there.
"The Inland Regional Youth Theatre is a youth theatre company with the goal of providing affordable theatre opportunities to the youth of the Inland Empire," says Brian Sharp, President and Producer of Inland Regional Youth Theatre. "Based out of Riverside, the Inland Regional Youth Theatre seeks to offer a variety of opportunities for youth to participate and learn about the performing arts. These learning opportunities range from performing on stage to working behind the scenes. Our mission is to allow any youth who wishes to explore the arts an opportunity to do so. We always have openings and opportunities available."
Set in New York City in 1922, Thoroughly Modern Millie tells the story of young Millie Dillmount from Kansas who comes to New York in search of a new life for herself. Her grand plan is to find a job as a secretary for a wealthy man and then marry him. However, her plan goes completely awry. The owner of her dingy hotel kidnaps young girls to sell to the Far East; her wealthy boss is slow in proposing marriage; and the man she actually falls in love with doesn't have a dime to his name - or so he tells her.
"It was an honor to be asked to direct Thoroughly Modern Millie. A show of this caliber requires a cast with maturity, vocal, dance and theatrical experience," says Doug Wozny, the show's Director. "From day one of auditions, I knew we had such a cast. At every rehearsal, I am humbled by their dedication and skills. Their studies go far beyond the time we have together as a team. I have watched them grow through the scenes, developing movements, emotions and characters that are far beyond their familiarity and years. I have never been more excited to open a show. The audience is in for a wonderful evening."
Inland Regional Youth Theatre's production of "Thoroughly Modern Millie" runs February 19 & 20 at 7:30 p.m. and February 20 & 21 at 2:00 p.m. at Corona H. S. Performing Arts Center, located at 1154 Tenth Street, Corona. Presale tickets are $10 and $15 at the door. For more information or to purchase tickets, visit www.iryt.org.
.