March 25th - April 10th
Mission Theatre
Fallbrook
YouTube - 'Jesus Christ Superstar' Promotional Video
(YES! This is performed by the actual cast!)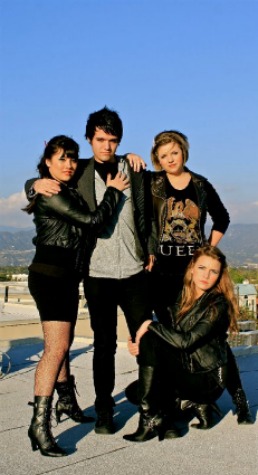 JESUS CHRIST SUPERSTAR : Timeless and for our Time
Jesus Christ Superstar, the groundbreaking theatrical masterpiece by legendary writing team Andrew Lloyd Webber and Tim Rice, is coming to The Mission Theatre in Fallbrook on March 25 for 9 performances. The first collaboration between Andrew Lloyd Webber and Tim Rice to be performed on the professional stage, Jesus Christ Superstar is one of the most popular and enduring works ever created for the musical theatre. Featuring such notable songs as "Superstar", "Everything's Alright" and "I Don't Know How to Love Him", Jesus Christ Superstar earned five TONY nominations.
Set in one act, Jesus Christ Superstar tells the story of the final seven days in the life of Jesus of Nazareth. Superstar dramatizes Jesus' entry into Jerusalem, the unrest caused by his preaching and popularity, his betrayal by Judas, the trial before Pontius Pilate, and his ultimate crucifixion. Perpetually changing the face of musical theatre, Jesus Christ Superstar will leave audiences captivated by its power. As relevant and timeless as ever, Jesus Christ Superstar, the rock opera vision of "the greatest story ever told," is perhaps more potent in today's troubled world than when it was first produced. Now, for the new millennium, this magnificent story comes once again vividly to the stage in an unforgettable performance.
Fallbrook Players have won numerous national awards for their stage productions, and they have cast the most talented young actors in southern California for this production. The stellar cast features Christian Acda, Alexis Anderson, Jordan Bedley, Paige Bullard, Chloe Curry, Crosby Curry, Abby Davis, Trevor Davis, Alyssa DeLaRosa, Jordan DeLeon, Dustin Frye, Emily Chelsea Goedken, Mickey Hike, Emily Hines, Erin Hucke, Troy Hussmann, Stephen Lawrence, Emil Lundqvist, Matthew Malecki, Anzy McWha, Josh Morrow, Kei Pham, Justin Regaspi, Sydney Skidmore, Alexis Leigh Thomson, Melanie Tierce, Jon White, and Jenna Wille. Collectively this cast boasts many professional theatre productions, recording contracts, film projects, and many National Youth Theatre and CETA awards for their work.
Jesus Christ Superstar will be directed by J. Scott Lapp. After smash hit runs of 13, Fiddler on the Roof, RENT & 7 Brides for 7 Brothers in Temecula, he is joining forces with the Fallbrook Players for the first time! Mr. Lapp's credits also include assistant directing the recent pre-Broadway run of Bonnie & Clyde at the Asolo Rep in Florida and Limelight: The Story of Charlie Chaplin at the La Jolla Playhouse. Choreography will be by Chelsea Nicole who was recently seen as Hodel in Fiddler on the Roof. She is an alumnus of The Pulse 2010 Teacher Workshop in New York. Her recent choreography credits include 13, RENT (associate choreographer) and successful runs of The Wedding Singer, All Shook Up and Oliver. Joshua David Cavanaugh is joining the team as Musical Director after completing his vocal performance degree from Chapman University. Recent credits include Perchik in Fiddler on the Roof and San Diego Opera's production of Aida.
Already seen and loved by thousands, don't miss the opportunity to introduce a new generation to this exhilarating and significant piece of musical theatre, Jesus Christ Superstar the original rock opera. Jesus Christ Superstar will run March 25 through April 10 at The Mission Theatre in Fallbrook, California. Tickets are on sale now and may be purchased at www.FallbrookPlayers.com or at the Mission Theatre box office, or by phone at 760-728-0998.
Picture: L-R: Jordan DeLeon as Soul Sister, Jon White as Judas Iscariot, Anzy McWha as Soul Sister and Crosby Curry as Soul Sister.