Fallbrook Players Presents
Luann: Scenes From a Teen's Life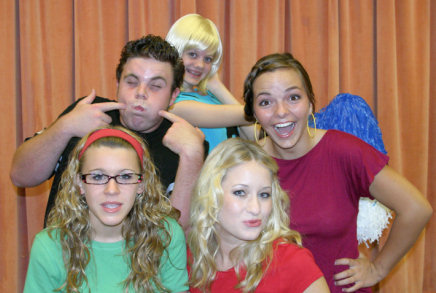 Fallbrook Players is set to open "Luann: Scenes From a Teen's Life" based on the beloved comic strip,
Luann
. Penned by North County resident Greg Evans, t
he famous comic strip jumps to life on the Mission Theater stage.
Fun and funny for all age groups, you will roll in the aisles as we take a musical look at teen life with all the angst and joy including pimples, bad hair days, summer vacation, sprees to the mall, and of course teen romance!
"I am really excited about the opening of this production," said Evans. "Cartooning is a solitary profession. Working with other creative, artistic, talented people is something I just don't get to do. So I am looking forward to the collaborative aspect of putting on a show. And I love seeing kids perform. All that joy and energy has a way of rubbing off on you. I can use all the extra energy I can get," he laughed. "I will be at every show," he added. "How could I not be?"
"Luann: Scenes From a Teen's Life" opens Friday, October 17th, and runs through October 26th at the Mission Theater, in Fallbrook. Friday & Saturday shows are at 7:30, while the Sunday matinees are at 2:00. Tickets may be purchased at the Mission Theater Box Office, or by calling 760-731-2278. For more information, visit www.FallbrookPlayers.com