Fallbrook Players Presents
Seussical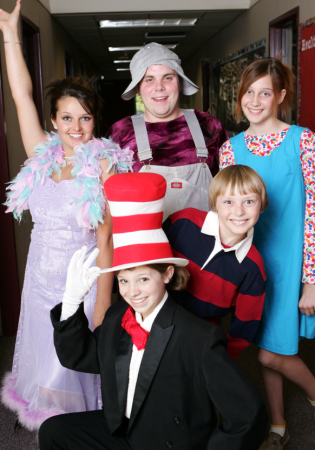 This picture of "Seussical" characters is stuck on a page,
but before you know it they will be on a stage!
The Mission Theater in Fallbrook is the place it will be seen,
from April 4th through April nineteen!
Call 731-2278
Call now, real fast! Please don't wait!
The show is so good you'll be yelling for more!
And it's so funny you'll roll on the floor!
how kids can get Seussical tickets for free!
If you have any questions that just can't wait,
Call Fallbrook Players at 728-0998!
Picture: Some of Dr. Seuss's best-loved characters collide & cavort in Seussical, an unforgettable musical caper!
From left:
Brooke Wojdynski as Mayzie LaBird, Kalin Blackshear as Horton the Elephant, Sydney Skidmore as Gertrude McFuzz
Kneeling: Anzy McWha as The Cat in the Hat, and Reed Lievers as Jojo.