Dreams Really Do Come True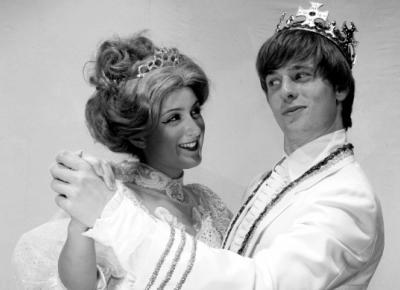 Encinitas - Christian Youth Theater (CYT) students of North County Coastal will present the musical Cinderella at the La Paloma Theatre from November 12 - November 21. Cinderella is the magical story of an over-worked stepdaughter whose fairy godmother fulfills her wish to attend the Prince's ball. It's the magic of Cinderella's charm, however, that sends the Prince searching for the owner of the glass slipper. Rodgers and Hammerstein balance the romance with zany comedy.
Featuring Michelle Montejano of San Diego as Cinderella and Tom Hatfield of Encinitas as the Prince, and a cast of students ages 8 - 18, the production includes all the classic characters audiences have come to expect from this story. Dancing mice that become dancing horses, a coachman and a footman on the sparkling carriage transformed from a pumpkin, a nasty stepmother and two wicked stepsisters and a fairy godmother that makes Cinderella's dreams come true. Additional students work on the technical aspects of the show as backstage crew, lighting and sound technicians and assist as ushers.
Performance dates for Cinderella are November 12, 13, 19 & 20 at 6:00 p.m. and November 13, 20 & 21 at 2:00 p.m. at the La Paloma Theatre at 471 S. Coast Hwy 101, Encinitas 92024. All seats are reserved and ticket prices are $10 for children 3-19 and $12 for adults, with special discounts available for groups of ten or more. The Bargain Day performance is Saturday, November 13 at 2:00 p.m. with all tickets at $8. For tickets phone 619 588-0206 or 800 696-1929.