The Children's Theatre Company Presents
The Monkey King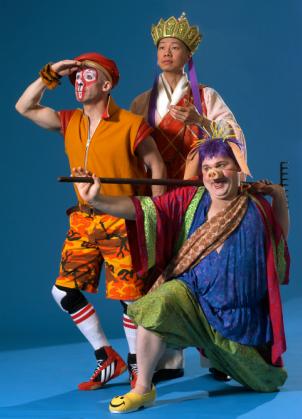 WHO:
The Children's Theatre Company (CTC), the nation's leading theater for young people and families and recipient of the 2003 TonyŽ Award for Outstanding Regional Theater.

WHAT:
CTC's 2004/2005 season jumps into spring with the world premiere of "The Monkey King"
Based on Wu Chen-En's "A Journey to the West"
Created and adapted for the stage by Shen Pei
With English adaptation by Jeffrey Hatcher
Directed by Shen Pei and Peter C. Brosius
Choreographed by Shen Pei

The 26-member cast includes CTC resident acting company members, CTC performing apprentices, guest artists and students actors.

The Monkey King is proudly sponsored by Wells Fargo.

With the powers of a super hero and a totally mischievous spirit, the Monkey King has been one of the most beloved heroes in Chinese culture for four centuries. When Sun Wu Kong (the monkey king); Ba Jjie (the forever hungry pig); and Sha Sen (the klutzy carp) all get kicked out of heaven, they must earn their way back by accompanying the gentle Monk Tang on an extraordinarily perilous journey to transport the sacred scrolls from India to China.

WHEN:
The Monkey King previews March 1, 2, and 3, opens March 4, 2005 and runs through April 16, 2005.

WHERE:
The Children's Theatre Company, 2400 Third Avenue South, Minneapolis, MN 55404

TICKET INFORMATION:
Ticket prices are $15-30 for adults and $9-24 for children, students, and seniors. Group rates are available.
For more information contact The Children's Theatre Company Ticket Office at 612-874-0400 or www.childrenstheatre.org.