Coronado School of the Arts' Presents the Classic Musical Singin' in the Rain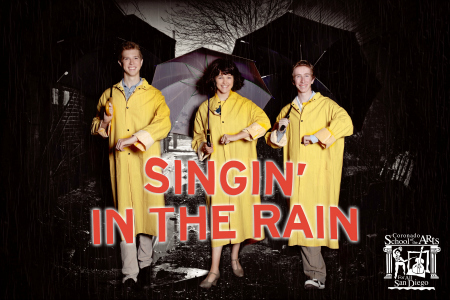 Coronado School of the Arts (CoSA) will present Singin' in the Rain October 26 – November 3 at the Coronado Performing Arts Center located at 650 D Avenue, Coronado, CA, 92118. Showtimes are 7 p.m. on October 26-27 & November 2-3 and 2 p.m. on October 28.
Originally a movie starring the iconic Gene Kelly, Singin' in the Rain follows the story of Don Lockwood, silent film star, and his best friend, Cosmo Brown, as they help Hollywood usher in the age of sound in 1927. Since Don and his silent film co-star, Lina Lamont, are such bankable celebrities, they're the perfect duo to take the leads in Monumental Pictures' first movie musical. There's just one problem: Lina can't carry a tune. Furthermore, as a silent-film darling accostumed to accolades, Lina isn't about to admit that her squeaky, nasal voice is causing a problem for the studio. Don finds what he thinks is a solution in the lovely Kathy Selden, a young Hollywood hopeful who just happens to have stolen Don's heart (which, by the way, Lina thinks is rightfully hers).
With its lively songs, witty humor, and fantastic dance numbers, Singin' in the Rain is the perfect production to showcase CoSA Musical Theatre's talented performers. "The comic timing and the chemistry among the cast members is terrific," says director Barbara Wolf. "All of the principal actors are amazing, but the entire cast creates an unstoppable energy."
Taking the stage as the movie-star foursome are CoSA students Chase Fischer as Don, Mitch Connelly as Cosmo, Molly Moreau as Kathy, and Victoria Celano as Lina. Fischer, a senior, had star turns in last year's The Wedding Singer and Thoroughly Modern Millie, and he is also the recipient of the 2012 Globe Honors Award for leading actor in a musical, an honor that sent him on a trip to New York City this past summer for an intensive weeklong clinic in Broadway training.
CoSA Musical Theatre has a reputation for fanastic shows; last spring's Thoroughly Modern Millie nearly sold out the house and brought audiences to their feet. With a large cast belting out tunes in harmony and tap-dancing in sync, Singin' in the Rain will offer an equally unforgettable theatre experience. All the familiar songs will be performed, from "Good Morning" to, of course, "Singin in the Rain," as well as a few new tunes. Valerie Henderson, the costume designer who created fabulous 1920s outfits for Thoroughly Modern Millie, will once again lend her skills to the production, and CoSA's Technical Theatre program will foster a fantastic stage and sound environment as usual.
"It's going to be a great show for families," Wolf adds. "There's a lot of goofy humor that kids will appreciate, and of course anyone who enjoyed the movie will love this show."
This year CoSA is participating in San Diego's Fall for the Arts festival and will be offering a special rate to children ages 12 and younger on Friday, October 26 and Saturday, October 27 only! Tickets for children for those two performances will be a mere 27 cents with the purchase of at least one adult ticket. Visit www.cosafoundation.org or call 619.522.4050 x4 for more information.
So pull out your raincoats and prepare to go back in time to Hollywood's golden age! Tickets to Singin' in the Rain are available for purchase online at www.cosafoundation.org. Prices range from $6 to $16 depending on age. All seating is general admission. Tickets will also be available for purchase at the door 45 minutes prior to showtime. Coronado Performing Arts Center Theatre and Box Office are located at 650 D Avenue, Coronado, CA, 92118. Call 619.522.4050 x4 with questions.
About Coronado School of the Arts:
CoSA is a public arts conservatory for high school students that embraces and encourages artistic creativity and academic excellence. This pre-professional arts program reaches out to talented students from all over San Diego County and offers a nurturing environment focused on individual growth, opportunity, and diversity.
CoSA is supported by Coronado School of the Arts Foundation, a non-profit tax-exempt 501(c)(3) corporation whose stakeholders are passionate about supporting Coronado School of the Arts (CoSA), improving community awareness of CoSA, and securing funds to perpetuate, improve and expand the school's programs.
For more information on CoSA or the Foundation, call 619.522.4050 ext. 4 or visit

www.cosafoundation.org

.