"All Shook Up" with a Purpose
Coronado School of the Arts production features cast of hopefuls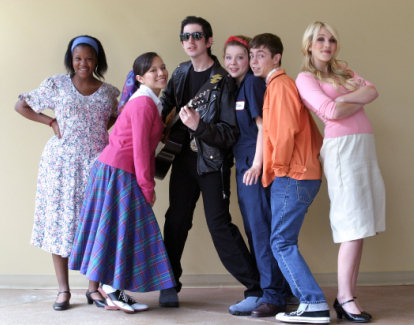 Coronado, April 2009 -- Grab your blue suede shoes, Elvis is in town. Coronado School of the Arts (CoSA) presents "All Shook Up" at the state-of-the-art Coronado High Performing Arts Center, 650 D Avenue, Coronado on April 24, 25, 26, 30 and May 1, 2 at 7:00pm, with a matinee on April 25 at 2:00pm. The costumes evoke the 50's and the music pays homage to "The King." The plot twists, turns and promises lots of laughs.
A rock-n-roll crooning, motorcycle-riding drifter named Chad turns a small town topsy-turvy. Everyone falls in love, but with the "wrong" person. Disguises, mix-ups and comedy ensue. Elvis tunes from "Jailhouse Rock" to "Love Me Tender" to "Blue Suede Shoes" amp up the energy and the 1950's costumes, hairstyles and dancing will have you tapping your toes and longing for a sock hop. But it is the cast that seals the entertainment deal. They dance, sing and interact as if their future depends upon it…and in many cases it does.
When CoSA Musical Theatre Director Barbara Wolf recently asked the cast how many planned to focus on theatre in college, almost every student raised a hand. "Twenty-six actors said this was their plan, one was undecided." said Wolf. "This doesn't really surprise me. The students that enroll in the CoSA program come here to hone their skills and to prepare for applying to some of the best performing arts colleges, universities and conservatories in the country."
CoSA is a conservatory-style arts program on the campus of Coronado High School. Musical Theatre is one of the six arts disciplines offered (the other disciplines include Dance, Digital Media, Instrumental Music, Technical Theatre and Visual Arts). Students from all over the region audition to enter the program. CoSA classes occur after the regular academic day at Coronado High School is over. Musical Theatre students study vocals, dance, theatre history and more. Most CoSA students also participate in optional activities such as a community service choral group, a repertory troupe that writes, directs, casts and performs original works and both small and large-scale performances like "All Shook Up." Many students travel thirty miles or more twice a day to attend the school. It is a long and grueling day, but these actors do it with a goal in mind.
Most of the seniors in the cast of "All Shook Up" are waiting for those college envelopes to arrive that will determine where next they will study their craft. Many have applied to the best performing arts programs in the country. Rumor has it that only one in five applicants will be accepted into any given theatre program. These students often beat those odds with their talent and commitment. Previous CoSA students have either graduated from or are currently attending schools like New York University Tisch School of the Arts, Boston Conservatory, University of California, Los Angeles, Chapman University and Hart College.
Rancho Peñasquitos resident Ben Silbert (Chad in "All Shook Up") applied early decision to the Tisch School of the Arts CAP 21 Musical Theatre at NYU and was accepted to begin that program in the fall.
Silbert set his sights on NYU at about nine. He began performing even earlier and, to date, has appeared in over thirty community theatre performances. Attending CoSA has helped him prepare for life as a performer.
"CoSA not only taught me how to present myself in auditions, but also the importance of a positive work ethic, "says Silbert. "You can't be difficult to work with—acting is a lot like joining a team, everybody has to work together. "
Alene Lynch from Imperial Beach who plays opposite Silbert as Natalie in "All Shook Up" echoes this sentiment. "Auditions are so much easier because of what we have learned from CoSA." Like Silbert, Lynch has spent much of her time on stage. Her recent performance in The Magical Forest at Coronado Playhouse won critical acclaim. She is waiting to hear from her colleges of choice. When asked what she would like to be doing in five to ten years, Lynch responds, "Performing on Broadway with Ben."
The hopefuls of tomorrow will not only be onstage during "All Shook Up," but also behind the scenes running the show. Senior Erin Keepers will act as Stage Manager for the production. In this role she directs light and sound cues and coordinates other student technicians during every performance. This fall, Keepers will attend Cal State Los Angeles to study filmmaking. Her dream for the future? To be an independent film director.
Dedication is not unusual for CoSA students. Many "All Shook Up" cast and crew members offer equally impressive resumes and desires. Broadway is a dream, but not an entirely impossible one for these hopefuls. After seeing "All Shook Up" you will think to yourself, "These students are incredibly talented!" You are right. These are the singers, actors, dancers, stage technicians and directors of the future.
Tickets for All Shook Up cost $10 to $15. Order tickets online at www.cosafoundation .org. For information, call 619-522-4050.
Photo: All Shook Up Actors get in the mood (left to right): Elisha Moore (Sylvia), Taylor West (Lorraine), Ben Silbert (Chad), Alene Lynch (Natalie), Travis Wright (Dennis) and Megan Martin (Miss Sandra).
Photo credit: Tim Whitehouse