Coronado School of the Arts Presents
Urinetown, the Musical
A hilarious tale of greed, corruption and love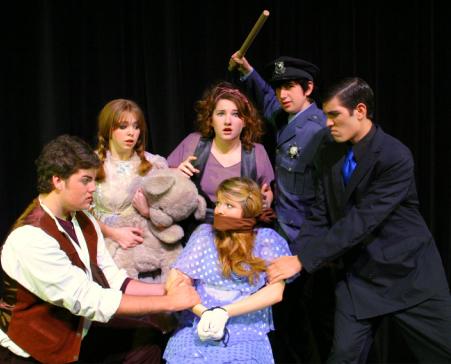 CORONADO, CA (February 1, 2008) – When you have to go, you have to pay. That is the underlying premise of Urinetown, the musical with the unlikely name that ran for 965 performances on Broadway and won three Tony Awards. Coronado School of the Arts (CoSA) brings this riotously funny production to the Coronado High School Performing Arts Center on February 15, 16, 21, 22, and 23. All performances begin at 7:00 PM. Tickets cost $15 for reserved seating and $12 for general admission with discounts for children, students and seniors.
Barbara Wolf, chair of CoSA's Musical Theatre Department, directs the 25 talented students who make up the cast of Urinetown. "This musical combines social commentary with large doses of humor. While the poor people in the play scrimp and save just to use the bathroom, the rich folks go to Rio for vacation," says Wolf. "Our staging intertwines current events with Urinetown's focus on greed and corruption. But remember, this is a spoof, a satire and very, very funny. The students are terrific. They have wholeheartedly thrown themselves into the challenge of this many layered-piece."
Urinetown is a hilarious tale of greed, corruption, love and revolution in a time when water is worth its weight in gold. In a Gotham-like city, a terrible water shortage, caused by a 20-year draught, has led to a government-enforced ban on private toilets. The citizens must use public
amenities, regulated by a single malevolent company that profits by charging admission. Amid the people, a hero decides he's had enough, and plans a revolution to lead them all to freedom! Inspired by the works of Bertolt Brecht and Kurt Weill, Urinetown is an irreverently humorous satire in which no one is safe from scrutiny. Audiences should not let the title fool them. This show is not an indulgence in toilet humor. Rather it is a light and also cerebral look at how greed and corruption on the highest levels impact us all. Most of all, Urinetown is a hilarious evening indulging in making fun of itself.
For tickets to Urinetown and/or information about the production, or any upcoming CoSA production, contact the CoSA office at 619.522.4050.
About Coronado School of the Arts
Each year since its inception, CoSA has increased its enrollment, arts and academic curriculum, and program funding -- earning numerous academic accolades in the process, including recognition from the California Department of Education as a "model specialized secondary program." CoSA offers comprehensive, enriched programs in Dance (classical and contemporary), Instrumental Music (classical, jazz and electronic), Musical Theatre and Drama (including voice, scene study and dance for theatre), Technical Theatre (design and production) and Visual Arts (drawing, painting, sculpture and multi-media). For more information, call (619) 522-4050 or visit www.cosa.coronado.k12.ca.us
URINETOWN CAST LIST (with character names)
Bonita
Lacey Oleary (Mrs. McQueen)
Clairemont
Jacob Sampson (Senator Fipp)
Coronado
Elizabeth Gaiani (Josephine Strong)
Donny Gersonde (Bobby Strong)
Michael Silberblatt (Dr. Billeaux)
Taylor West (Billy Boy Bill)
Maddie White (Mrs. Millennium)
Travis Wright (Officer Barrel)
El Cajon
Jordon Bunshaft (Old Man Strong)
Imperial Beach
Alene Lynch (Hope Cladwell)
Jamul
Julian Montijo (Hot Blades Harry)
La Jolla
Julia Karis (Featured Dancer)
Lena White (Ensemble)
Oceanside
Michael Anderson (Tiny Tom)
Otay Mesa
Isabella Verendia (Ensemble)
Point Loma
Brooke Williams (Ensemble)
Erin Petersen (Little Sally)
Rancho Peňasquitos
Max Gidaley (Caldwell B. Cladwell)
Darienne Orlansky (Soupy Sue)
Ben Silbert (Officer Lockstock)
Rancho Santa Fe
Ashley Masula (Penelope Pennywise)
San Diego
Maddy Berson (Featured Dancer)
Desiree Corriente (Little Becky Two-Shoes)
Gabriela Espinal (Featured Dancer)
Santee
Francesco Fromang (Robby the Stockfish)