CoSA Musical Theatre Students Promise Wow-Factor in "Footloose"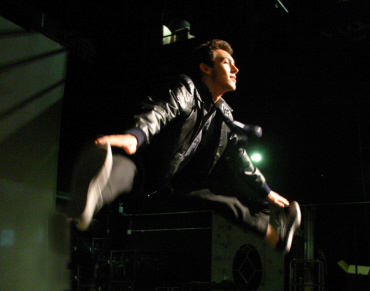 Coronado , March 2007 -- At first glance, this could be any group of high school students. Groups of three and four lounge about the room. The attire runs from jeans and t-shirts, to dance clothes, to sweatshirts with college logos. Some of the kids lean against the wall eyes closed, others chat or laugh. But then everything changes.
A petite woman steps to the front of the room. After a few announcements, she claps her hands twice and says, "Okay, let's go." Movement starts immediately. All of the laughing, leaning and snoozing stops. Forty-plus teenagers take their places looking focused and determined. The keyboardist begins to play, and the room transforms. These are triple threat kids from Coronado School of the Arts rehearsing for "Footloose" which runs April 27, 28 and May 3, 4 and 5 at 7:00 PM in the brand new, state-of-the-art theatre on the campus of Coronado High School , 650 D Avenue , Coronado .
The talent here runs deeps. The tight harmonies and in sync dancing attest to this. Some of these kids have 20 or more productions to their credit including school, professional and community theatre. As CoSA students in the Musical Theatre Department, they spend almost three hours in dedicated theatre arts classes after the regular school day to study their craft. And, if they audition and make the cut for a play like "Footloose," it requires additional hours of rehearsal each day. The extra effort doesn't seem to faze these youthful actors, singers and dancers.
In fact, these kids thrive on this work, according to Barbara Wolf the woman who called the room to attention and CoSA's musical theatre director. "The kids are like a team. No matter what the rest of their day has been like, when the actors come here to rehearse, they pull together and give it their all.
Jessica Lerner, a senior from Bonita who plays the role of Ariel in "Footloose" echoes this sentiment. "We are extra excited about this play since it will be our first musical in the new theatre. We can't wait to present the end product." Charles Evans a senior from Coronado , who plays Ren, the new boy in town, sees "Footloose" as a perfect ending for his high school acting career as he segues into college. "This is a great, fast-paced, contemporary production with great music. All I can say is that I hope everybody will come and see."
The plot of "Footloose" strikes close to home for these student actors. When city boy Ren moves to a new town in the West, he is amazed to learn that town elders forbid singing and dancing. The result is a teenage rebellion and a perfect vehicle for hit songs like "Footloose" and "Let's Hear it for the Boy" and amazing choreography. CoSA students would surely follow suit if landed in similar circumstances.
Just as the students work together to make this show as close to perfect as possible, other professionals join director Barbara Wolf to give this production the wow factor. Guest choreographer and one-time CoSA dance instructor Vanessa Gonzalez signed on to arrange sizzling dance numbers for the show. Gonzalez's list of credits includes classical training under Andree Harper and an apprenticeship with the El Paso Ballet. She has also trained in flamenco, Folklorico, jazz and hip hop and she performed with the Lone Star Ballet. Locally, she taught dance for area schools and studios and she choreographed CoSA's previous productions of "Kiss me Kate," "Grease," "Guys and Dolls" and "Runaways" to name a few. She currently performs for Carnival Cruise Lines as a featured dancer. Gonzalez returns to CoSA to add her passionate brand of choreography to "Footloose." She works the actors hard, but they love it. Coronado junior Donny Gersonde who plays Willard calls this a "dancier show, than most other CoSA productions." In fact, the Musical Theatre actors are joined by featured dancers from the CoSA Classical and Contemporary Dance program to round out the already talented dancing ensemble.
You feel the electricity in the room as these students prepare for "Footloose." "They are especially pumped up about this production. This is going to be an amazing show in our new theatre. I have to say, this is one production you will not want to miss."
Each year since its inception, CoSA has increased its enrollment, arts and academic curriculum, and program funding -- earning numerous academic accolades in the process, including recognition from the California Department of Education as a "model specialized secondary program."
CoSA now offers comprehensive, enriched programs in Dance (classical and contemporary), Instrumental Music (classical, jazz and electronic), Musical Theatre and Drama (including voice, scene study and dance for theatre), Technical Theatre (design and production), and Visual Arts (drawing, painting, sculpture and multi-media).
For more information, call (619) 522-8969 or visit www.cosa.coronado.k12.ca.us
Reserved tickets cost $15 and $10 for children, students and seniors. General Admission tickets cost $10 and $7 for children, students and seniors. To order tickets or for more information, please call 619.522.8969.