CMT MAINSTAGE PRESENTS RENT, school edition
March 6-15, 2009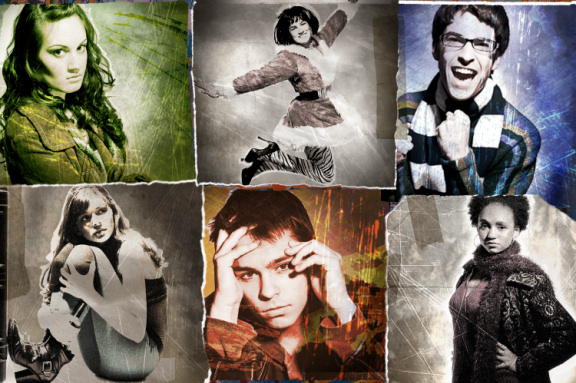 San Jose, CA –February 20, 2009 CMT Mainstage continues its 41st season with RENT, school edition playing 2 weeks, March 6-15, 2009. All performances will be held at the Montgomery Theater, downtown San Jose (corner of Market and San Carlos streets). Tickets are on sale now, ranging from $16-$23.
RENT, school edition is directed and choreographed by CMT's Artistic Director, Kevin Hauge and will be performed entirely by students. This is the first time CMT has produced this show. "It's important to note that we're not doing this to push the envelope. Theater, at its most powerful and profound, illuminates the human condition and provokes meaningful discourse about weighty, real-life issues. RENT deals with life, loss, homelessness, AIDS, and drug addiction. As an education organization, we want to give our performers a venue in which they can learn about these issues, and where we can help increase tolerance and understanding about homosexuality and AIDS," says Kevin Hauge.
RENT took Broadway by storm in 1996, winning multiple Tony Awards including Best Musical, Book and Score, as well as the Pulitzer Prize for Drama, an honor bestowed on only a handful of musicals since the inception of that award. The musical is based loosely on Puccini's La Boheme. It follows a year in the lives of seven friends living the disappearing Bohemian lifestyle in New York's East Village.
RENT, school edition adaptation has been carefully done, working with the Larson estate to retain the dramatic intent of the groundbreaking rock musical, and consists of minimal changes to language and the removal of one song (CONTACT) to make it possible for many schools to perform this piece.
Performance schedule: 3/6 at 7pm; 3/7 at 2pm and 7pm; 3/9 at 1pm and 6pm; 3/12 at 7pm; 3/13 at 7pm, 3/14 at 2pm and 7pm, 3/15 at 1pm. For more information or to purchase tickets, visit www.cmtsj.org or call 408.288.5437. Tickets may be purchased in person at the ticket services office at 1717 Technology Drive, San Jose, Monday through Friday 9am-5pm or at the Montgomery Theater, one hour prior to performances. CMT's Mainstage production of RENT, school edition is supported, in part, by a grant from the City of San Jose.