CAPA VENTURES INTO THE WOODS FOR
ITS LATEST MUSICAL THEATRE PRODUCTION

When Jack And The Beanstalk, Cinderella And Red Riding Hood
Cross Paths, A Fairy Tale Ending Is Guaranteed

Livonia Churchill High School Performances slated For November 18th, 19th And 20th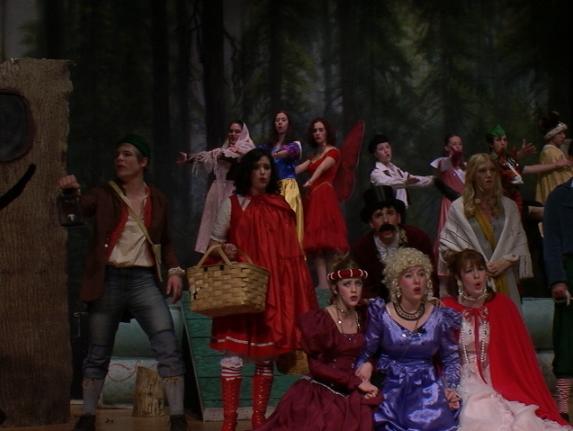 Not even the Brothers Grimm could have cooked this up. Take a half-dozen of your favorite fairy tales, stir them together, and mix in a heaping helping of Stephen Sondheim's music and a pinch of pixie dust. Now add Livonia Churchill High School's talented CAPA (Creative And Performing Arts) performers and you have the recipe for a tasty musical production entitled Into the Woods.
It opens Thursday, November 18th at 7:30pm in the Carli Auditorium at Churchill High School, 8900 Newburgh Road, Livonia. There will also be 7:30pm performances on Friday, November 19th and Saturday, November 20th. Tickets are $12 for adults, and $10 for students and seniors.
The Stephen Sondheim/James Lapine musical takes some of the central characters from the world's most famous fairy tales and weaves them into a new story filled with evil curses, magic potions, damsels in distress and even a handsome prince or two. The Broadway revival of Into the Woods won the 2002 Tony Award for Best Revival of a Musical.
The cast features Jon Wright as the Baker, Catherine Rayes as the Baker's wife, Laurie Kuhlman as the Witch, Lauren Epler as Cinderella, Heather Dolan as Little Red Riding Hood, Colin Gibbings as Jack, and Kriss Wellman as the narrator. Gail Susan Mack directs Into the Woods. Mack, who heads up the CAPA program, has directed over 350 shows during her career.
Rolfe Bergsman, whose credits include Art Director for rapper Eminem's movie Eight Mile, is the set designer.
For tickets call 734/425.5942 or log onto www.starringcapa.com. Tickets are also available at the door