Canyon Crest Academy Envision Theatre Presents:
"Kiss Me, Kate"
At The Proscenium Theater
Feb 16 - Feb 24, 2012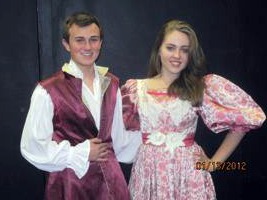 SAN DIEGO (January 27, 2012) – Canyon Crest Academy Envision Theatre is thrilled to present Kiss Me, Kate, Cole Porter's classic musical within a musical on February 16th – February 24th, 2012. Kiss Me, Kate brilliantly mixes the music of Cole Porter with Shakespeare's "The Taming of the Shew" to make one fierce 'Battle of the Sexes.' Chaos ensues when two former lovers play opposite each other on stage while their current lovers also take part in the production. Mix in a few gangsters, a hefty I.O.U., and some unexpected romance, and this musical is sure to have you on the edge of your seats.
Canyon Crest Academy's production comes to life through a promising cast of rising young stars. Propelled by Porter's Tony-winning score featuring such classic songs as Too Darn Hot, Another Op'nin', Another Show, So in Love, Brush Up Your Shakespeare, Wunderbar and Tom, Dick or Harry, Kiss Me, Kate is fun, melodious and sophisticated.
THE STORY
Kiss Me, Kate tells the story of the embattled Fred Graham and Lilli Vanessi, formerly husband and wife, who are now playing Petruchio and Katherine in a musical version of the Shakespearean battle of the sexes. Tensions between the ex-couple are brought to a boil by Fred's relationship with the sexy ingénue Lois (who plays Bianca), who is also involved with hoofer Bill Calhoun (playing Bianca's love interest, Lucentio). Life and art intersect to create chaos and romance on a grand scale, both onstage and off.
ABOUT THE SCHOOL
Canyon Crest Academy delivers not only an outstanding education but has the unique Envision arts program supported by donation dollars. Envision utilizes working artists as instructors. These professional artists work with the visual and performing arts students to deliver an outstanding arts experience at a professional level. CCA's theater program has won numerous awards and recognition and performances are known as above and beyond a 'high school theater show'. Several of the actors in this show including Hunter Schwarz and Alison Norwood are National Youth Theater outstanding lead actor award winners.
ABOUT THE DIRECTOR
Kiss Me, Kate is directed by American stage director Cynthia Stokes, who has devoted her professional career to creating provocative and thrilling productions across America. An accomplished theatre director her work has been seen at American Conservatory Theatre, The Piccolo Spoleto Festival, Wellfleet Harbor Actor's Theatre, Diversionary Theatre and North Coast Rep. Cynthia is deeply committed to encouraging the next generation of theatre and music artists and is not only directing this talent group of actors but Ms. Stokes started La Jolla Playhouse's Summer Conservatory (now is its 17th year) and San Diego Opera's Summer Opera Institute.
THE CAST
Lilli Vanessi / Katharine Minola .................................................................... Nicolette Burton
Fred Graham / Petruchio ................................................................................ Hunter Schwarz
Lois Lane / Bianca Minola .............................................................................. Alison Norwood
Bill Calhoun / Lucentio ........................................................................................... Ben Sutton
First Gangster ........................................................................................................ Chris Denton
Second Gangster ................................................................................................... Jess Tierney
Hattie ..................................................................................................................... Marisa Acosta
General Harrison Howell ...................................................................................... Julian Coker
Flynt / Gremio ............................................................................................................ Mark Steitz
Riley / Hortensio / Musician #1..................................................................... Jack Blumenfeld
Pops (Stage Doorman) / Padua Priest ............................................................ Jason Phillips
Ralph (Stage Manager) ...................................................................................... Braeden Abel
Harry Trevor / Baptista Minola .......................................................................... Josh Guicherit
Stagehand #1 / Nathaniel / Cab Driver........................................................... Kate Frampton
Stagehand #2 / Philip / Musician #2............................................................. Troy Lingelbach
Paul ....................................................................................................................... Noah Someck
Paula ................................................................................................................ Haylee Karpman
Wardrobe Lady ............................................................................................... Kaleigh Stegman