News


Broadway Training Center's Combined Ensemble presents

BIG FISH

Westchester Premiere!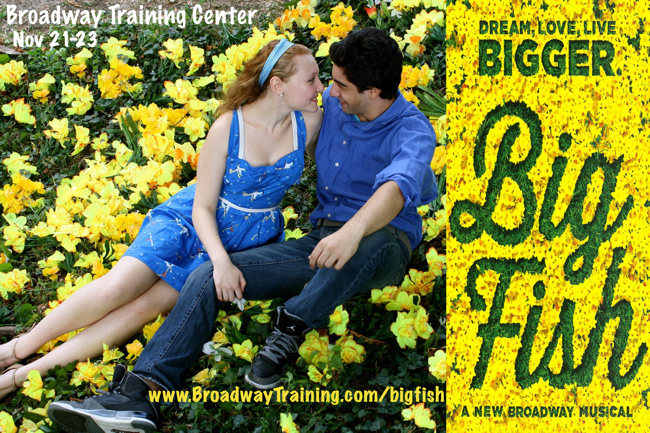 Based on the celebrated novel by Daniel Wallace and the acclaimed film directed by Tim Burton, BIG FISH centers on Edward Bloom, a traveling salesman who lives life to its fullest· and then some! Edward's incredible, larger-than-life stories thrill everyone around him - most of all, his devoted wife Sandra. But their son Will, about to have a child of his own, is determined to find the truth behind his father's epic tales.

Overflowing with heart, humor and spectacular stagecraft, BIG FISH is an extraordinary new Broadway musical that reminds us why we love going to the theatre - for an experience that's richer, funnier and BIGGER than life itself.

This magical musical is perfect for the whole family!

Book by John August (Screenwriter for Big Fish, Charlie and the Chocolate Factory)
Music and Lyrics by Andrew Lippa (Broadway's The Addams Family, The Wild Party)

Directors: Jason Brantman & Fiona Santos

"YOU SIMPLY MUST SEE BIG FISH." - Norman Lear
"SPECTACULAR. BIG FISH has BIG talents, a BIG cast, a BIG orchestra, BIG production numbers and really BIG special effects..." - New York Times

"REMARKABLE! A show for everyone who loves musicals. DON'T DARE MISS THIS!" - Variety
"4 stars! A GORGEOUS, CHARMING, DREAM MUSICAL! RAVISHING and ENCHANTING, with ONE KNOCKOUT DANCE NUMBER AFTER ANOTHER..." - Bloomberg News
Appropriate for all ages.

Reserved Seating Prices:
Advance Sales
$20 Adult
$15 Senior/Student

Tickets are $2 more at the door.
Home | Awards | Reviews | News | Actors | Headshots | Theatres | Calendars | Newsletters | Membership
Auditions | Workshops | Drama Instruction | Playwrights/Scripts | Vendors | Links | Advertising | About Us