Broadway Training Center of Westchester Presents
Tarzan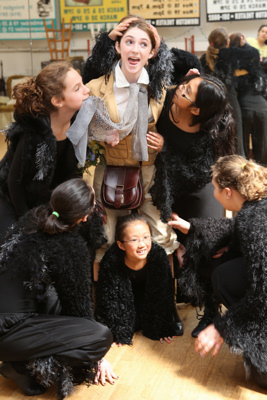 "Best Theatre Classes in Southern Westchester"- Westchester Magazine
Book by David Henry Hwang
Music and Lyrics by Phil Collins
Directors: Jason Brantman and Fiona Santos
Performed by: The BTC Junior Ensemble
*Rated G
WHAT:
Based on Edgar Rice Burrough's Tarzan of the Apes and the smash-hit 1999 Disney animated film, TARZAN tells the story of an infant boy orphaned on the shores of West Africa. Taken in and raised by a tribe of gorillas, the young boy strives for acceptance by his ape father while grappling with his uniqueness. A fantastic adventure musical perfect for the whole family!
"The emotional themes are universal ones -- parental loss, mother-son attachment, the quest for paternal approval, the struggle with identity, the discovery of love." -Variety
"It's David Henry Hwang's sprightly libretto that makes this Tarzan fly. Hwang contributes a script with a light but full heart, one that aims to amuse and enlighten children without patronizing them, or us." -USA Today
WHERE:
Irvington Town Hall Theater
85 Main Street
Irvington, NY 10533
WHEN:
Friday May 3 @ 7pm, Saturday May 4 @ 7pm, and Sunday May 5 @ 3pm.
TICKETS:
$20 adults, $15 students and seniors
*There is an additional fee of $2 per ticket if purchased at the door.
Reserved seating available online at www.BroadwayTraining.com
or by calling the ITHT box office 914-591-6602
Members of the media: Please call 914-478-7065 for press seats.
MISC:
For more information about Broadway Training Center's Youth, Teen and Adult Enrichment programs visit our website www.BroadwayTraining.com or call 914-478-7065
WHO:
Broadway Training Center of Westchester was recently awarded Best Theatre Classes in Southern Westchester by Westchester Magazine, under
the artistic direction of Jason Brantman and Fiona Santos. This premiere performing arts school, located in Hastings-on-Hudson, NY,
provides children, teens, and adults with Broadway oriented performing arts training focusing on the joy of accomplishment and the
enrichment of personal expression through classroom and performance work. Broadway Training Center of Westchester is a not-for-profit
501(c)(3) organization. Celebrating our 21st anniversary this year!