The Academy for the Performing Arts presents
ON THE RAZZLE
A farce by Tom Stoppard Directed by Robert Rotenberry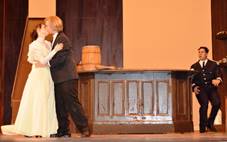 Set in Austria in 1900, to go "on the razzle" means to have a night on the town, full of fun, and perhaps even a bit of misbehavior. So, what happens when the boss leaves town, and two irrepressibly irresponsible young men are left to run the store, but instead, set out to the big city "to acquire a past before it's too late."? What happens is a night of double entendres, mistaken identities, high jinks and low tomfoolery – and romance: uncontainable, disobedient romance. Hysterical hysterics abound in a road trip that turns into a non-stop chase scene. "One false move and we'll have a farce on our hands."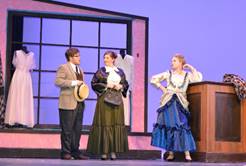 On The Razzle is adapted from Johann Nestroy's Einen Jux will er sich machen which is the same source for Thornton Wilder's The Matchmaker which in turn was the basis for Hello, Dolly! In On The Razzle two clerks in Zangler's store Weinberl (Jacob Menke) and Christopher (Andy Jacobson) decide to go to Vienna and have a razzle. Of course at every turn they narrowly run into their boss Zangler (Grant Rincon) and his new servant Melchior (Sam Johnson). They unknowingly run into Zagler's fiancée Madame Knorr (Alyssa Hall) and her friend Frau Fischer (Sydney Farrar or Kate Napoli) who they take out to dinner despite their lack of funds. Zangler is on the hunt for his niece Marie (Shannon Mahoney or Haley Blizzard) who has run off with her boyfriend, Sonders (Jake Webber). They all end up at Miss Blumenblatt's (Cassie Kirkconnell or Makenzie Hajek) where the mistaken identities get out of control including Christopher in a woman's cloak being mistaken for Marie.
Performances are April 14-16 at 7:30 pm and April 17 at 2:00 pm in the Huntington Beach High School Auditorium at 1905 Main Street; Huntington Beach. Tickets are $12.00 for adults and $6.00 for students and senior citizens which can be purchased at www.hbapa.org. For information call (714) 536-2514 Ext. 4025.