The Huntington Beach Academy for the Performing Arts presents
ANTIGONE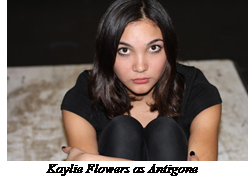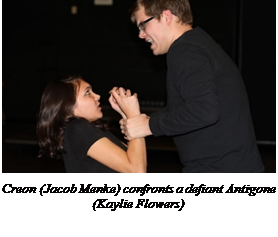 The first Academy for the Performing Arts drama was the Anouilh version of Antigone twenty years ago. Entered in the Orange County Department of Education's 17th Annual Drama Competition, it won The 1997 Superintendent's Award First Place Drama. Antigone attracted a huge audience which is not always the case with a tragedy. Now it is time for a whole new generation of students to experience one of the strongest female roles ever written. The show is being performed in our Studio Theatre for three nights only- February 4, 5 and 6 at 7:30 pm. APA tickets are available for presale at www.hbapa.org for only $12 for adults and $6 for students and seniors. Availability is limited in our smaller theatre. Kellie Nitkin, an alumni of APA is returning to direct this show. The cast includes Freshman Kaylie Flowers as the defiant Antigone, Senior Jacob Menke as Creon, Seniors Haley Blizzard and Jake Webber as Ismene and Haemon. The Chorus Lead is Senior Alyssa Hall along with Tatum Allen, Cassie Walsh and Ayla Valentine rounding out the chorus. Antigone's nurse will be played by Valerie Robfogel and the messenger by Foster Kirkconnell. The guards are William Boyer-Montgomery, Jacob Mesa and Daniel Lesnick. The cast also includes Sophia Shajari, Catlynn Yates and Kylie Martinson.
The story of Antigone is not a new one. It was originally written by Sophocles around the time of 441 BC. Jean Anouilh re-imagined it in the 1940's during World War II, and first performed in Paris at the Théâtre de l'Atelier on February 6, 1944, during the Nazi occupation. It is a story that can live in any time period. Anouilh remained faithful to the story of the original production but Sophocles' original piece did strongly differ from Anouilh's version in one respect. It had a clear hero and a clear villain. Antigone was the righteous martyr and Creon the villainous tyrant. Though we still see Antigone as a protagonist and mourn her fate, Anouilh's version of events is much more ambiguous. Is Antigone clearly right in her choice
to defy the law? Is Creon right in his choice to uphold it? We are meant to feel conflicted. This is what happens when morality stands up against justice and not hand in hand with it. Which should we stand behind our moral codes or our civil laws? What will make for a better society? Why is it that they do not always work hand in hand for the greater good? We are meant to be left with these questions. We are meant to leave the theater thinking and questioning our own relationship with authority and morality. Anouilh did not want the audience to leave the theater blindly following any faith or any leader. The world that he lived in was a representation of the terror that can come from simply following what people were told was right and wrong. He shows us this through the characters of the guards who seem so unaffected by the events of the play. Their world is largely unchanged from beginning to end yet their hands are just as bloody as Creon's. Anouilh wanted to wake the audience up. It is my hope that this production wakes the minds and hearts of the audience.
For further information call the APA office at 714) 536-2514 Ext. 4025 or visit www.hbapa.org.