APA Theatre presents Picnic At Hanging Rock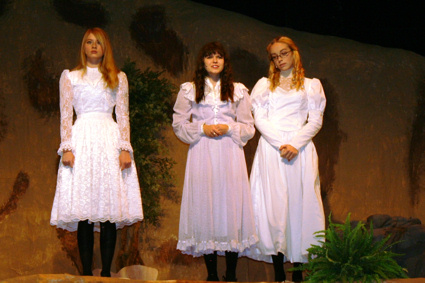 The Academy for the Performing Arts will be presenting the Australian classic, Picnic At Hanging Rock.   There are four performances of this mystery/thriller on Thursday-Saturday November 14-16 at 7:30 pm and Sunday November 17 at 2:00 pm. 

At Appleyard College, a girls' private school, near the town of Woodend, Victoria, Australia, the students are bustling on the morning of St. Valentine's Day, 1900. Miranda (Brieanna Greene), Irma (Tara Coffey), Marion (Katie St. Onge), Rosamund (Amaras Miller), and outsider Edith (Caitlyn Abrahams) read poetry and Valentine's Day cards.

The group prepares for a picnic to a local geological formation known as Hanging Rock, accompanied by the mathematics mistress Miss Greta McCraw (Theresa Miles) and the young and beautiful Mademoiselle de Poitiers (Tawni Bridenball). On the authority of the stern headmistress Mrs. Appleyard (Kate Morton) jittery teacher Miss Lumley (Kayla Foley)  and Sara (Sidney Farrar) are not allowed to attend.

Driven by buggy operator Ben Hussey (Niko Portante) the party pass through and arrive at the Rock by mid-afternoon. After a meal, Mr. Hussey notes his watch has stopped at the stroke of twelve, as has the watch of Miss McCraw. With permission from Mlle. de Poitiers, Miranda, Marion and Irma decide to explore Hanging Rock, with Edith allowed to follow. The group is observed several minutes later by a young Englishman, Michael Fitzhubert (Mason Marie), who is lunching at the Rock with his uncle Colonel Fitzhubert (Daniel Pascoe), aunt Mrs. Fitzhubert (Amanda Walker) and coachman Albert (Joseph Mello). At the top of Hanging Rock, the group lies on the ground, apparently dazed by the sun. Miss McCraw, still at the base of the Rock, stares up. Miranda, Marion, and Irma awake and move, as if in a dream, into a recess in the rock face. Edith screams and flees down the Rock.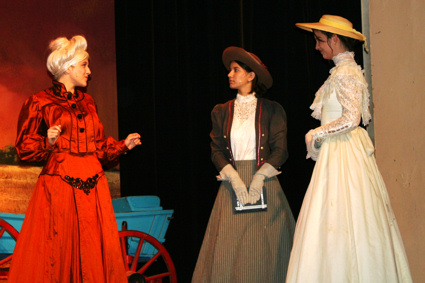 The distraught and hysterical party eventually returns to the College, where Mlle. de Poitiers explains to Mrs. Appleyard that Miss McCraw has been left behind. Mr. Hussy explains to Mrs. Appleyard that Miranda, Irma, Marion, and Miss McCraw went missing. A search party, led by Sgt. Bumpher (James Hamill) of the local police, finds nothing, although Edith reveals that she witnessed Miss McCraw climbing the Rock without her skirt. Michael Fitzhubert is questioned and reveals he watched the schoolgirls but can provide no clues as to their whereabouts.
Michael becomes obsessed with finding Miranda; and, with Albert, he conducts another search of Hanging Rock. Despite Albert's protests, Michael decides to remain overnight and begins climbing again the next day, leaving a trail of paper. The story becomes more ominous as other unexplained events, deaths and hysteria follow.
Robert Rotenberry directs this epic production of Picnic At Hanging Rock with a cast of over forty actors. Under the technical direction of Joe Batte the student designed and built sets include the impressive mountain of Hanging Rock. Rachel Engstrom's costume students have designed the lovely Victorian fashions. This very unique play by Laura Annawyn Shamas started as a very successful novel by Lady Joan Lindsay. The commercial and critically successful film version directed by Peter Weir is credited as the start of gaining Australian movies world recognition.   American film critic  Roger Ebert called it "a film of haunting mystery and buried sexual hysteria" and remarked that it "employs two of the hallmarks of modern Australian films: beautiful cinematography and stories about the chasm between settlers from Europe and the mysteries of their ancient new home." 
Tickets are $22.00 for adults and $16.00 for students and seniors. Tickets are available on-line at www.hbapa.org/shows.html or by calling the APA office: 714-536-2514 x4025