APA THEATRE PRESENTS THE DIARY OF ANNE FRANK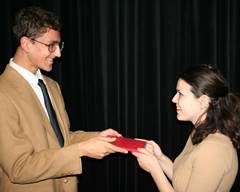 APA Theatre will be presenting the Pulitzer Prize winner drama, The Diary of Anne Frank by Frances Goodrich and Albert Hackett, newly adapted by Wendy Kesselman for four performances, April 18, 19 and 20 at 7:30 pm with a 2:00 matinee on Saturday at 2:00 pm.
We decided to produce this compelling play in the spring for the cross curricular possibilities with its connection to the study of the Holocaust and immediately following the Official Days of Remembrance. I don't know that the power of the writings of a teenager have ever been more fully realized than with Anne's legacy of her diary. The original Broadway play won the Tony Award in 1957 and was subsequently made into the Oscar winning movie in 1959. We will be presenting the revised script from 1997 that starred 16 year old Natalie Portman as Anne. It is streamlined into continuous action and includes material withheld from the original publications of The Diary of a Young Girl.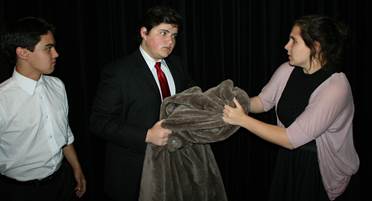 Our cast consists of the Frank family-Tara Coffey as Anne, Daniel Pascoe as Otto, Cheyenne Derr as Edith, Marilee Jooste as Margot; the Van Daans- Sarah Ashley, Stephen Stanec and Kelsey Kato; Preston Francis as Mr. Dussel and Angelica Stramer and Joseph Mello as Miep and Mr. Kraler. The three men are Benjamin Belhassen, Niko Portante and Jake Webber. We have a whole second cast who will perform for the two daytime performances- Micayla Vermeeren, James Hamill, Kate Morton, Theresa Miles, Katie Peterson, Alex Jean, Mason Marie, Sam Johnson, Gaby Broughman, Grant Rincon and Jacob Menke.
We hope that you can make your students aware of this play. Rarely do we get to bring history to the stage. I don't think I have ever had a cast so committed to the work. They feel a major responsibility to do justice to these peoples lives. The entire play was off book and blocked weeks ago. I also have some study guide materials I have located if you would like some.
Adapted from Anne Frank: The Diary of a Young Girl, edited by Otto Frank. Winner of the 1956 Pulitzer Prize, Tony Award, Critics Circle Award, and virtually every other coveted prize of the theatre. In this gripping new adaptation by Wendy Kesselman, from the original stage play by Goodrich and Hackett, newly discovered writings from the diary of Anne Frank, as well as survivor accounts, are interwoven to create a contemporary impassioned story of the lives of people persecuted under Nazi rule.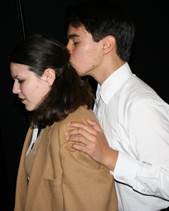 Anne Frank emerges from history a living, lyrical, intensely gifted young girl, who confronts her rapidly changing life and the increasing horror of her time with astonishing honesty, wit, and determination. An impassioned drama about the lives of eight people hiding from the Nazis in a concealed storage attic, THE DIARY OF ANNE FRANK captures the claustrophobic realities of their daily existence—their fear, their hope, their laughter, their grief. Each day of these two dark years, Anne's voice shines through: "When I write I shake off all my cares. But I want to achieve more than that. I want to be useful and bring enjoyment to all people, even those I've never met. I want to go on living even after my death!"