News


APA Theatre presents Auntie Mame
The award winning theatre program of the Huntington Beach Academy for the Performing Arts in Huntington Beach will be presenting the epic comedy Auntie Mame. There will be four performances- November 15-17 at 7:30 pm and November 18 at 2:00 pm at 1095 Main Street; Huntington Beach, CA 92648
Auntie Mame has a wildly successful history. The novel by Patrick Dennis was published in 1955 and spent 112 weeks on the best seller list. The play adapted by Jerome Lawrence and Robert E. Lee The play opened on Broadway in 1956 and was a Tony Award winning hit that ran for 639 performances. The film adaptation opened in 1958. Nominated for seven Academy Awards, it was the # 1 Box Office Hit of the Year. The musical adaptation Mame opened in 1966 and was a huge hit running until 1970. The story of an orphaned boy coming to live with his colorful aunt contains some of the funniest characters and scenes ever written. It spans almost twenty years including the years of Mame trying to bounce back from the Stock Market Crash.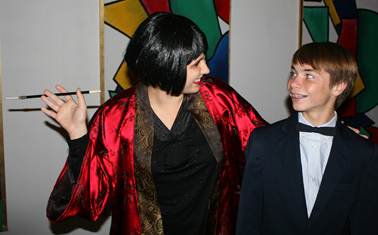 Recently Stage Directions Magazine presented the winners of the 2012 Stage Directions' High School Theatre Honors programs announcing the top five theatre programs in the United States. Selected as the Best Theatre program in the Southwest was APA's program. Headed by Auntie Mame's director Robert Rotenberry, APA's Theatre Department has been very fortunate to have talented students both on stage and off. APA's shows are student designed and the multiple sets that create the locations for the twenty five scenes that zip by in this much loved comedy featuring a multitude of costumes and wigs as we move from the roaring twenties to the forties. The large cast of forty six students are all in high school.
Tickets for Auntie Mame $22.00 for adults and $16.00 for students and senior citizens.

Group rates are available.

Visit www.hbapa.org or call 714) 536-2514

Ext.

4025.
Home | Awards | Reviews | News | Actors | Headshots | Theatres | Calendars | Newsletters | Membership
Auditions | Workshops | Drama Instruction | Playwrights/Scripts | Vendors | Links | Advertising | About Us