APA Theatre's 2011-2012 Season
The Theatre Department at the Academy for the Performing Arts in Huntington Beach is gearing up for our biggest season ever. This is our first full year with our Black Box Theatre as a performance venue.
We open our season in the Black Box with the horror classic Night of the Living Dead live on stage on October 24 and 25 at 7:30 pm. Based on the George Romero iconic film Zombies have been reanimated and are in a relentless pursuit of human flesh to devour. Seven people have taken refuge in an isolated farm house. Will they survive? If they don't who will the zombies come after next? Alexis Karol directs this show that is sure to sell out.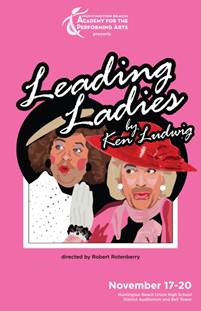 Robert Rotenberry directs our fall main stage production of Ken Ludwig's hysterical comedy Leading Ladies. Two English actors find themselves down on their luck in Pennsylvania when they read about a dying dowager searching for two long lost British heirs to leave millions. Jack and Leo decide to pretend to be the missing nephews only to find that they are actually nieces. As two very odd women show up at the mansion romantic entanglements and scrambled Shakespeare ensue leading up to a fractured version of Twelfth Night. There will be four performances in the historic Huntington Beach High School auditorium on November 17-20, Thursday, Friday and Saturday at 7:30 pm and Sunday at 2:00.
One of the more unique scripts of the year is Jay Hopkins and John Hunter's The Iliad, The Odyssey, and all Greek Mythology in 99 Minutes or Less coming to the Black Box Theatre December 4 and 5 at 7:30 pm. In a fast paced, silly retelling of the legends of the Greek Gods and mortals volumes of stories are compacted into a short, easy to understand retelling featuring our Actors Rep company.
After the success of last year's Steffy and Cindi's Sweet Sixteen Robert Rotenberry has written another audience participation comedy for Actors Rep, The Miss Marvelous Murders. Chris Carmichael, former child star of the Barney Jones, Boy Detective TV show is hosting the finals of the Miss Marvelous beauty pageant. Not long after the talent portion one of the contestants is murdered Chris is pushing the event on as he really needs his paycheck. When two more murders happen he uses his skills from the big acting role to solve the crime with the help of the audience. He finally polls the audience and whichever suspect gets the most votes is the killer in one of the five possible endings to the show. The show will be performed twice in the Black Box, at 7:30 pm on Monday and Tuesday, February 21 and 22 before the show goes on tour with multiple casts including alumni actors who will be part of our Encore Actors Rep.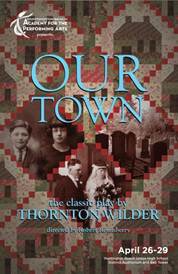 APA second main stage play will be Thornton Wilder's American classic, Our Town. In this Pulitzer Prize winning drama the stage manager takes us to Grover's Corners, New Hampshire in 1901 to witness the love story of George Gibbs and Emily Webb who go from neighbor school mates to married parents. The universality of the play raises the question, "do human beings ever realize life while they live it—every minute?" Performances will be April 26-29, Thursday, Friday and Saturday at 7:30 pm and Sunday at 2:00.
Our Dramatic Production includes students who are playwrights who create original scripts and our directors who take the plays from page to stage. For the fifteen year we present two festivals, The Ten Minute Play Festival on Saturday January 21 at 1:30 and 3:30 and The One Act Play Festival on Monday and Tuesday, May 21 and 22 at 7:30 pm. These world premiere scripts have included everything from drama and comedy to musicals and a myriad of alternative styles.
Finally we are offering three acting showcases to give our actors an opportunity to present their skills to an audience, all in the Black Box. Taking The Stage features our beginning acting students doing improvisation and monologues on December 1 at 7:30 pm. An Evening of Inge features our Acting Styles class performing from the works of playwright William Inge on January 10 at 7:30 pm. Our season ends with Acting Up, a showcase featuring all of our acting students performing their favorite scene or monologue from class or a production this year. This sell out evening performs on May 24 at 7:30 pm.
For further information go to
www.hbapa.org
and call 714) 536-2514 Ext. 4025.