ACT - San Diego Brings Disney's High School Musical
to the Lyceum
Director Leigh Scarritt Turns Her Talent to the Young Actors of San Diego
San Diego, August 2008 -- It's a musical rumble between the brainiacs, the thespians and the jocks when ACT - San Diego presents Disney's High School Musical at the Lyceum Theatre, in Horton Plaza on August 22, 23 and 24 (Senior Cast) and August 28, 29, 30 and 31 (Junior Cast), 7:00 PM performances every evening and 2:00 PM matinees on Saturdays and Sundays. Tickets range from $12 to $21, with discounts for seniors, military and youth 17 and under. Over 80 talented young actors from throughout San Diego County will bring this foot tapping, fun loving new favorite to life.
Disney's High School Musical chronicles the clash between brains, brawn and the urge to perform. Gabriella, the multi-talented new girl, apparently fits well in all groups; while Troy , the heir apparent basketball star has a mean layup, but secretly yearns to take to the stage. Sharpay, the drama diva, and her brother, Ryan, scheme to dupe the duo's attempt to attend callbacks for the high school musical. They think the stage is their world. Along the way, a little romance, a few twists and turns and lots of amazing vocals and choreography bring the play to a rousing conclusion with the performance of "We're All in This Together."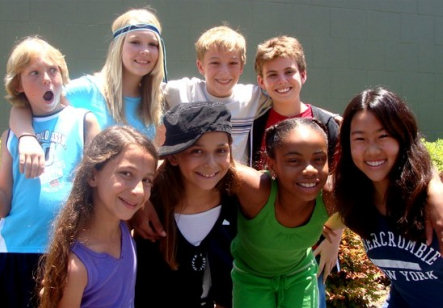 Director Leigh Scarritt is an accomplished singer, actor, dancer, choreographer, composer, playwright and musical director. As an actor, she has a resume filled with lead roles in prestigious productions locally, nationally and internationally. San Diego audiences will remember her as Penelope Pennywise in Starlight's 2007 production of Urinetown, and more recently the powerful role of Nanalu in Diversionary Theatre's Bluebonnet Court. For the 2008 Starlight season, Leigh will return as the witch in Into the Woods. Leigh also teaches and mentors many San Diego youth who are passionate about performing. About her role as director of Disney's High School Musical Leigh says, "Our goal is to create a performing arena where each young artist can discover their own personal excellence and to encourage them to find more depth, inspire another artist and fully experience the process. We want them to be proud of the work and the equation that makes them the playmakers!"
Musical Director/Choreographer Rayme Sciaroni has a served as musical director and choreographer for youth productions throughout San Diego and New York . As a composer/lyricist he has written numerous cabaret songs and musicals, including the critically acclaimed The Daddy Machine.
"It is a privilege to welcome Leigh Scarritt and Rayme Sciaroni as the directorial team for this project," says Carina Wheatley on behalf of ACT – San Diego Board of Directors. "They bring not only considerable experience and expertise to the production, but they also share their passion and insight with the cast. It is exciting to see how positively the actors respond to this professional mentoring. Leigh and Rayme demand much from these students, but they rise to occasion every time – and enjoy the process along the way. Talented kids and superb direction, what a perfect combination!" In keeping with the tradition of teaching and training, ACT – San Diego students also benefit from the support of Assistant Directors Jordanna Hurwitz Rose (Scripps Ranch), accomplished vocalist currently working toward a BFA in Opera Performance at University of British Columbia School of Music, and Robby Hartson (Rancho Peňasquitos) pursuing a BFA in Acting at the University of Arizona with many local and regional musical theater credits to his name.
The directorial team is outstanding. The cast is full of passionate young triple threat actors—they sing, they act, they dance. The result is just what it should be: a rousing good time for an audience of any age. What better way to spend a summer evening or afternoon? For tickets or more information about ACT - San Diego , please call the Lyceum Box office at 619-544-1000 or visit www.actsandiego.com.
About ACT - San Diego
ACT - San Diego (Actors Conservatory Theatre) is a non-profit 501(c) 3 organization that offers an exciting new theatrical experience for young actors. Our mission is to provide educational and artistic opportunities to perform, act and learn the art of stagecraft in a fun, satisfying and yet highly professional environment. Recent ACT - San Diego productions include Annie, Once on this Island, The Wiz and The Secret Garden. For more information about ACT – San Diego visit www.actsandiego.com or call 858.777.9899.
DISNEY HIGH SCHOOL MUSICAL is presented through special arrangement with Music Theatre International (MTI). All authorized performance materials are also supplied by MTI.
421 West 54th Street , New York , NY 10019 Phone: 212-541-4684 Fax: 212-397-4684 www.MTIShows.com
Senior Cast Leads -- Front Row (left to right): Darienne Orlansky (Rancho Penasquitos), Katie Sapper ( El Cajon )
Middle Row (left to right): Torrey Mercer ( Solana Beach ), Matt Maretz ( Carmel Valley ), Taylor West ( Coronado ), Ben Silbert (Rancho Penasquitos), Christine Hillmann
Back Row (left to right): Paul Williams ( San Diego ), Sarah Knapp (La Jolla), Lucas Brahme ( La Jolla )
Not pictured: Judy Mora ( San Diego ), Austin Potts ( La Mesa ), Jim Wheeler ( Lakeside )
Junior Cast Leads – Front Row (left to right): Lucia Vecchio (Encinitas), Martina Lopez (Lemon Grove), Timyra-Joi Beatty ( San Diego ), Angela Han ( Carmel Valley )
Back Row (left to right): Mason Mercer ( Solana Beach ), Cassidy Burwell ( El Cajon ), Spike Sommers (North Park), Cameron Elmore ( Poway )
Not pictured: Gemini Anderson ( Coronado ), Jason Marks ( Mission Valley ), Dylan Mulvaney ( El Cajon ), Austin Potts ( La Mesa ), Julia Vanderwiel ( Carmel Valley )
Taylor West (Senior Cast Gabriella) gets into character with other cast members during rehearsal for ACT – San Diego 's production of Disney's High School Musical.
Photographs by
: Jennifer McCreery
- Please see below for a complete listing of all the cast members and the neighborhoods they represent. -
The Cast