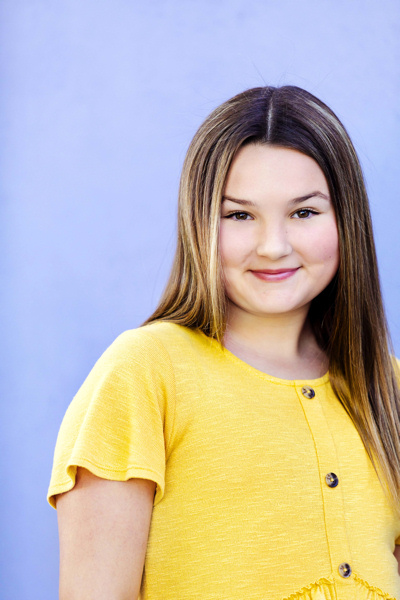 Baylee Horvath
Gilbert, AZ
RésuméBorn:
2008
Height:
5' 2"
Weight:
120
Hair:
Light Brown
Eyes:
Hazel
Videos:
https://youtu.be/wnvslP_NyqU
https://youtu.be/EoxlHwy9zU8
https://youtu.be/lTrA4VqnMbM
https://youtu.be/x6JrrofzbFk
https://youtu.be/gp74421jg8E
Bio:
Baylee has been dancing since age 3. At age 6, she hit the stage in her first musical CATS and even performed at the AriZonis. That's all it took. Since then, she has been in over 25 musicals in adult and youth theaters and has decided to pursue musical theater as a profession. While she started in dance, singing soon took center stage as Baylee has been recognized vocally in city, state, regional and national competitions in musical theater, classical and contemporary music placing top 1st, 2nd or 3rd in all. Last year at just 11 years old, Baylee was also honored to receive 3 NYA nominations for the lead roles as Annie, Dorothy and Aunt Sponge.
2021 NYA National Finalist - #7
Junior Division 7th Grade - Arizona
Live Out Loud
from
The Little Princess